Home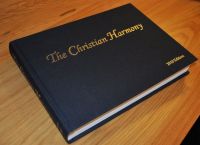 The Christian Harmony Music Company, Inc. is a non-profit, 501(c)(3), organization and is the publisher of the
The Christian Harmony
. The company is a supporter of the
Georgia State Christian Harmony Convention
, which is held on the first Sunday in December and the Saturday before.
Please follow the links to learn more about
The Christian Harmony
or to
order copies
.
Other Christian Harmony Resources
Find
minutes from past singings and announcements of upcoming singings
.
Listen to
Christian Harmony recordings
.
Donate
The Christian Harmony Music Company, Inc. (CHMCI) is a non-profit, 501(c)(3) organization. We accept tax-deductible contributions. The CHMCI is organized for the purpose of promoting and preserving the Christian Harmony shape note singing tradition. Primary activities include publishing and disseminating books and other materials, and supporting endeavors that inform and promote Christian Harmony singing and related activities. Contributions will be used to further these goals.